Hey everyone I am currently using CAN bus to control four ODrives via a Feather Can M4 Express from adafruit. I have a serial to CAN bus converter firmware written that allows me to connect to the CAN Bus via serial. I am using an oscilloscope to look at the waveform of the CAN bus data and found something interesting.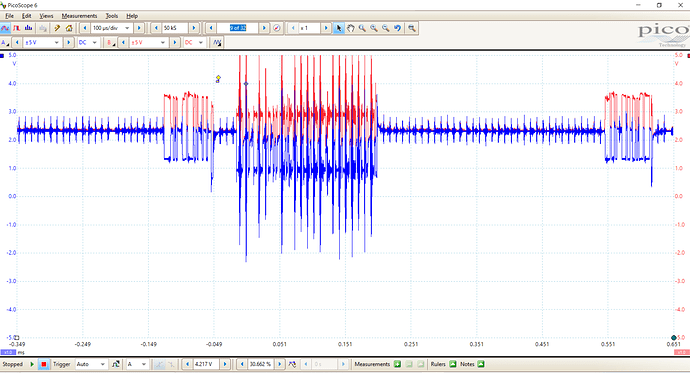 All the ODrives are powered via 52V. The first issue or concern is the general spikiness of the signal even with no data being sent via the CAN bus. The first block of signals being sent are requests for voltage data to be sent from all 8 ODrive devices. Then the following response is the voltage data being sent back from the ODrives to the Feather CAN. However, as you can see it is extremely spiky indicating a good deal coming from the Odrive.
I thought this may have been bus collisions so I then changed it to ask only one ODrive for voltage and I got the same result, a very noisy response. Granted it works great I am just curious if there is a way were could remedy this to try and produce a cleaner signal or if anyone else has had this issue.