Hi,
I'm trying to build a 3-axis machine, which consists of 4 motors, and I intend to use two ODrives (v3.6) in position control mode to command it. The setup is like this:
X axis - longest - commanded by one motor, via ODrive #1
Y axis - middle - commanded by two motors, via ODrive #2
Z axis - vertical, shortest - commanded by one motor, via ODrive #1
The X axis sits atop two rails (which are the Y axis):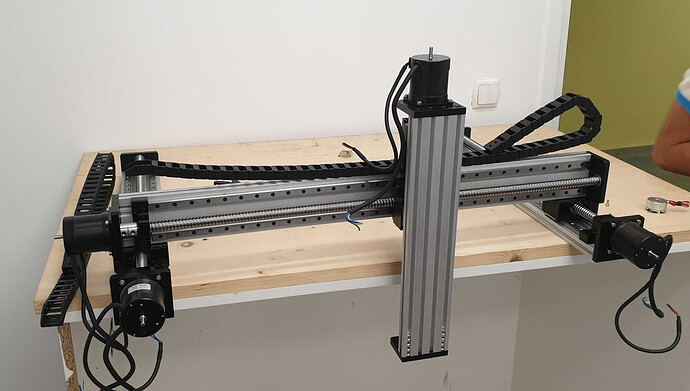 The Y axis motors need to be driven in very close sync, otherwise the X axis will be subjected to bending.
The four motors are identical, and have built-in Hall sensors. They are suitable for CNC work - 4 pole pairs, very good torque.
How to set up ODrive #2, so that it drives the identical motors identically: M1 position should always mirror M0's as close as possible?