I have the 56 volt version oDrive. I am driving two D6374 motors each with an 8192 encoder. I set it all up and tested with a 12 volt supply (a deep cycle marine battery) and got it all working. I am using the RC input mode and have my Tx/Rx allowing me to drive the motors in both directions with joystick control. My intent is to operate with significantly more power and amperage then with my testing.
I bought a couple of 5000 mAh 6 cell LiPo packs and charged them up. I hooked them up in series and measured a nominal 4.2 x 12 = 50.4 volts. Then I didn't do any reading to see if I needed to change any settings and just plugged it in!

There was definitely a surge. I heard a pop and saw a flash out of the corner of my eye near the right end of the board where the power indicator is. I didn't hard plug it, just started touching the connectors and quickly withdrew. I heard my PC bleep indicating that the USB connection had come alive briefly. It was not immediately clear if I just saw the LED flash or a surface mount component arced. Upon closer inspection, I noticed a trace to the last capacitor on the end near the power LED on the bottom side of the board had blown out (see image).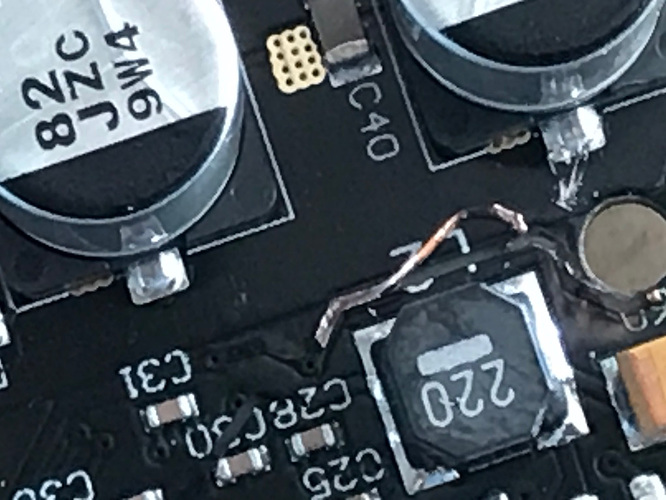 Before I noted the damage, I had already plugged it back into the 12 volt supply and it seemed to be operating. But I didn't do any serious checking, just verified I could turn my motors both ways under control. So did I burn it up or not? Can I just solder a small gauge wire in place of the blown trace to fix this? What did I do wrong and/or what is the correct way to configure and to power up/down the oDrive with higher voltages like this?
– James