Hello All,
I have been struggling with this for a while…

I have an old ~7Kg robot that's max speed is ~27mph. I want to make a new robot ~10Kg that goes around 30mph and I know I need around 1000 RPM to achieve this.
I tried in vain for a while to effectively choose a motor that will give me the most torque at a certain RPM but I only know how to do this via Torque/Speed curves. Since BLDCs do not provide Stall Torque values ever, how can I do this?
The ODrive Motor Guide creates a set of benchmarks of an example load torque, but I do not know what torque my robot will require. I just want to know what motor will give the most torque safely at 1000 RPM to the wheels.
(Question 1)

I know I need the max speed around 1000 RPM, acceleration can be slow like 5 seconds maybe? ideally transmission ratio less than 3:1 using different teeth sprockets only. How do I know which motor is the most powerful for around $100?
(guess 1) Easy way out? Pick a low Kv like 130, and choose the one with the highest rated power.
(guess 2) Or I can chose based on MaxCurrent * Torque Constant for highest Torque.
Motors I am looking at, with some math I may have messed up.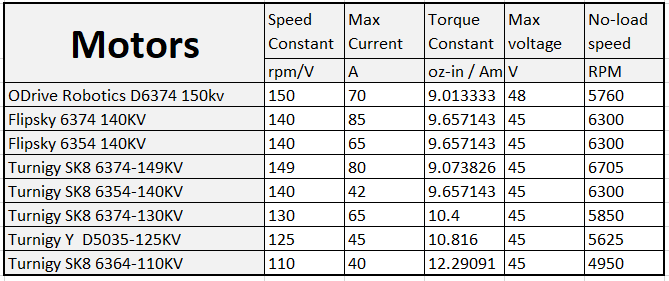 (Question 2)

Let's say I go with Turnigy D5035-125KV (Side Note: What does the D stand for and why is 5035 incorrect with its dimensions?). How do I know how to properly gear this motor? My only guess is to choose a No-Load speed after gearing that is 20% higher than my desired speed.
(Question 3)

I'd like to know how much more power I am getting than my old setup
OLD Motor+Transmission:http://www.robotcombat.com/products/BP396505-22.html
http://www.robotcombat.com/products/BP397892-05.html
Last Note: My robot is weird… I use Whegs not wheels which will probably strain the encoder and BLDC. So the torque graphs will be very bumpy. That is why I want a high torque motor. I'll be getting AMT103 for encoding. Any tips here?
To anyone who actually read my full post, Thanks so much! and any help will be greatly appreciated.
Sincerely,
A very desperate student.