Dear ODrive Community,
My name is Jakub, I am happy to join this community and learn from you.
tl;dr: What is the sensitivity of Odrive current measurements? Could I measure currents from 100mA to 3200mA reliably to get the torque approximation? (for a motor with 3.2A rated current).
I have a miniature linear rail and guideway with a rack and pinion drive and a small BLDC motor. The motor is Nanotec DF45 with 3.26A rated current and 9.5 peak current and 13Ncm rated torque.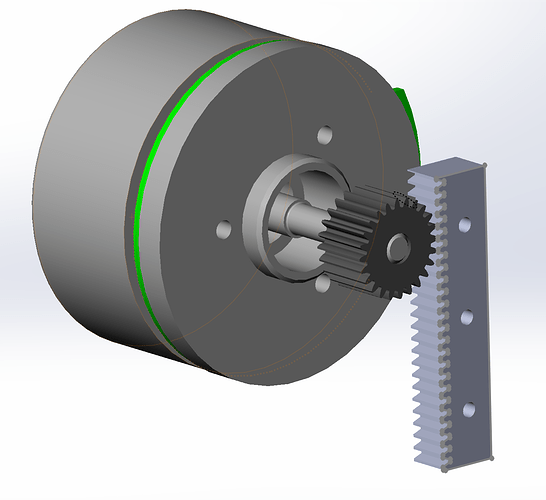 The rack is attached to a plate which exerts the force on some surface.
My intention is to replace conventional piezoelectric force sensor with ODrive current measurement features. I Would like to measure force that would be recalculated from torque ranging from 0Ncm to 13Ncm, that is:
Gear diameter = 12mm; Gear r = 6mm
So to get the force limit:
Force on Gear diameter for rated torque and current = 13 Ncm * 10/6 * (1/cm) = 21.66 N
How sensitively I could measure the changes in the motor torque?
What should be the main considerations for the motor and encoder selections? It looks like I might need a low rpm gimbal motor, and an absolute encoder or encoder with index that will facilitate ODrive anti-clogging algorithm.
I know that there might be some critical information missing here. I will be happy to learn and clarify this if you point out these. Thank you for your time devoted to this matter.
Regards, Jakub