Hello!
I am working with the new Odrive Pro and I have issues to enable my encoder. I configured inc_encoder0 with an ATM102. But when I do my calibration, there is what I got :



I just cannot get rid of the error: SENSORLESS_ESTIMATOR_ERROR_UNKNOWN_CURRENT_MEASUREMENT.
Also, it seems that my encoder is not recognize.
There is my configuration for the encoder: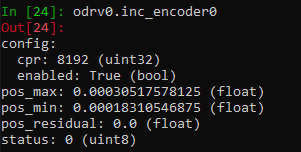 I am trying to enable the encoder but with the new structure of the Odrive Pro, I just dont see where I can do it. I tried to force the status of sensorless, but it is an unwritable field.
Thank you very much