Hello,
About the board of odrive 3.4-48V
When the power is plugged in,display "ERROR_DRV_FAULT".reading the drv_error value gives 1024.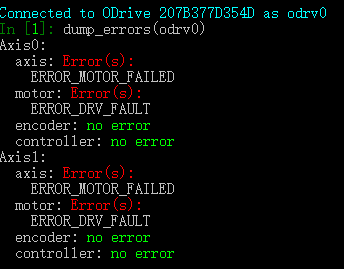 However,when I remove the motor from the board, the result of "dump_errors(odrv0)" is normal.Is this something that can be fixed in the settings, or should I be looking at replacing the gate driver?
Another problem is that it takes 20 to 30 seconds to connect to the computer by using odrivetool.