Hello,
I am working on firmware modification to allow running time parameterized trajectory points generated by fitting a cubic spline, which is generated by ROS Moveit software (which deals with robotic manipulators in ROS).
(link to branch on my fork)
The motivations are:
a joint of the robotic arm have to be at a certain position synchronously with other joints for the pose to make sense. For example moving the arm while having the end effector parallel to the floor.
sending fine-grain setpoints takes up communication bandwidth (I am using a CAN bus), and is difficult to synchronize accross multiple Axes.
Because the trapezoidal trajectory control is already implemented, I used the same pattern:
save the starting time, plug in current time to a equation in each control loop to get pos_setpoint and vel_setpoint.
The difference is that there is a buffer to hold multiple trajectory points which has its own cubic function for position and quadratic function for velocity. (new points are loaded as time progresses)
synchronizing (start signal) will be done by a high priority CAN message meant for all ODrive nodes.
the control ends when there is no next point in the buffer, switching to CTRL_MODE_POSITION_CONTROL
Here is a diagram of the implementation: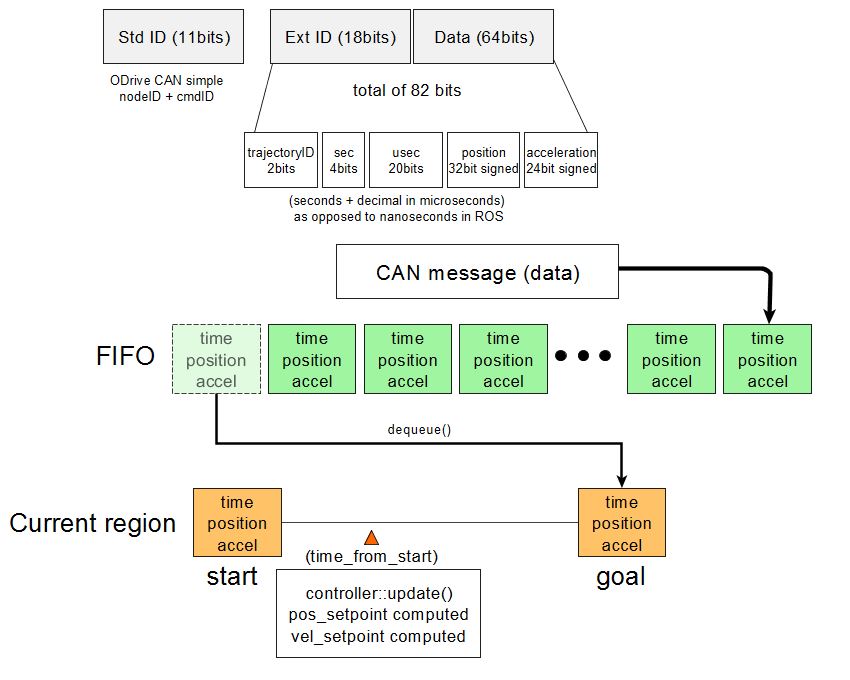 FIFO and 'current region' in the picture are queues implemented as linked list.
The equation used to make cubic polynomial (to compute pos_setpoint) from position, acceleration, and time of two points (from a spline) (velocity function used is just the derivative of this equation). (courtesy of Ruye Wang hmc.edu):


I used trajectory points generated from ROS moveit package which looks like following when the above equations are computed using python: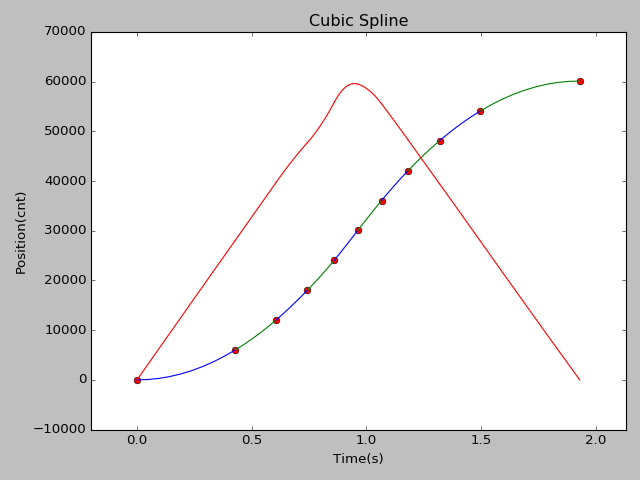 and here is a capture from ODrive liveplotter on hardware: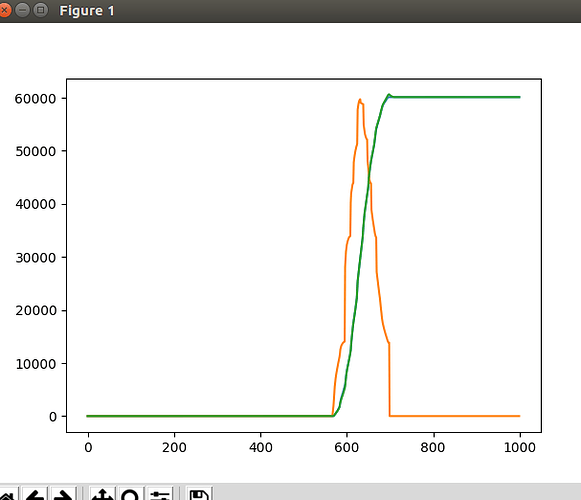 orange = vel_setpoint, green = pos_estimate
As you can see from the liveplotter output, it is not quite working right.
The vel_setpoint seems to be lagging behind a bit and eventually causes an overshoot (seems small in the plot but its almost 1/8 turn of the motor).
I have measured the time required to compute pos_setpoint and vel_setpoint with an oscilloscope to be 3 microseconds.
Is it taking up too much time in the control loop? Maybe the approach is just wrong? I appologize if the code is hard to read
(controller update)
(computing pos_setpoint, vel_setpoint)
I am kind of stuck and ask for some suggestion. Thanks.