I'm getting unrealistic current measurements for my setup, suggesting a reduction in current required to spin a motor at higher speed (i.e. negative viscous friction). This obviously makes no physical sense, and I am suspecting a current measurement issue.
Specs:
ODrive v3.6 56V version, supplied with 40V
T-Motor 8012, 100kV, 21 pole pairs
CUI AMT233V-A encoder (identical issues with an AMS AS5048 and AS5047P, however).
I am running in velocity control, with default gains increased by a factor 2 (although this does not seem to matter). My data, on ramping velocity reference slowly, looks as follows: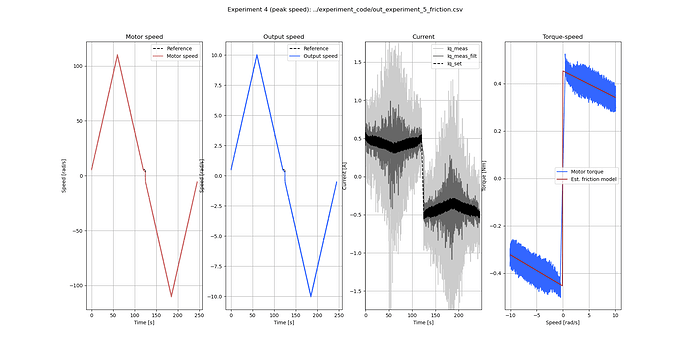 with plot 1 the motor velocity, plot 3 the current (reference, measurement, filtered), and plot 4 the speed-torque curve, using motor velocity, current, and the known torque constant. Note that plot 4 uses the current reference, but the measurement shows the same behaviour. Clearly, current magnitude appears to reduce as speed increases , which is not physically possible. Notably this happens at relatively low velocities already (below 50 rad/s or 8 rev/s or 477rpm), which is why encoder limitations don't seem too likely.
I have previously verified with a known static load (no motion) that the current measurement and torque constant together yield approximately the known torque, i.e. suggesting the current measurement isn't entirely wrong when velocity is zero. However, it appears that it is when velocity increases. There is obviously quite some noise on the current at these magnitudes, but the trend is still clearly there.
What I have tried:
Different encoders (see above)
Frictional load (a gearbox). This reduces the negative viscous term, but quite often still negative viscous term. I would expect a significant increase in current as speed increases with this load.
Increasing encoder and current control bandwidth from 1000 to 3000 (rad/s? Hz?): More noise as expected, same result.
Reduce requested current to 20A from 60A. No significant difference, maybe less current noise, but identical trend.
Reduce supply voltage to 15V. No difference.
My suspicion is something with either 1) encoder filtering, 2) encoder phase lead/lag, 3) current filtering in software (would have to be before the abc->iq transforms, given that in q-frame current should be slowly increasing with velocity), or 4) issues measuring rapidly changing currents in the phases.
Help would be greatly appreciated! I'd think current measurement is important for many users.