Hello!
I've got a problem with ODrive 3.5 48V.
Some time ago the board was used in a project and everything worked fine. After some changes in electronics (other components than ODrive) motors started to vibrate in random moments (we checked encoders, PID gains and so on). Replacing the ODrive with a new board with the same configuration solved the problem.
Now I'm trying to check this old board. With old firmware (0.4.11) when I ran AXIS_STATE_FULL_CALIBRATION_SEQUENCE the motor (6354-180kV) didn't move (or made only a small movement) and I got ERROR_PHASE_RESISTANCE_OUT_OF_RANGE.
Later I updated the firmware (0.5.1)(had to use STLink, odrivetool dfu and DfuSe didn't work for me) and I got MOTOR_ERROR_DRV_FAULT after rebooting ODrive (before running calibration sequence - tried few times, even without the motor connected).
(screenshot)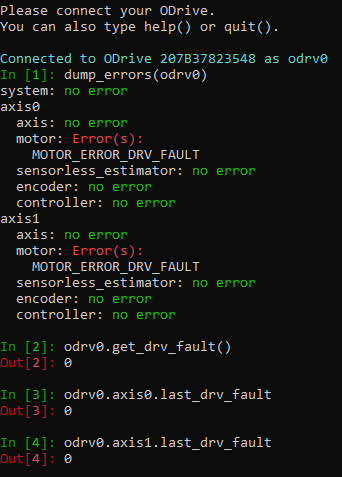 I'm powering the board with a lab PSU, 31 V.
I also checked the motor phase outputs - ther are no shorts between them.
What troubleshooting should I do next? I know there's a tutorial about ERROR_DRV_FAULT related to ODrive 3.4 - I have the 3.5 version.
Thank you in advance for your help.