Motor - Magic Pie 2 (48 Volts, 56 magnets, 1500 kw)
Power Source - MeanWell RSP-3000-48
I compiled and flashed ODrive with the following settings different from the standard ones:
main.h
#define HW_VERSION_HIGH_VOLTAGE true
commands.h
#define UART_PROTOCOL_LEGACY
low_level.c
#define ENCODER_CPR (5000 * 4)
#define POLE_PAIRS 28
.motor_type = MOTOR_TYPE_GIMBAL,
Installed connections in this picture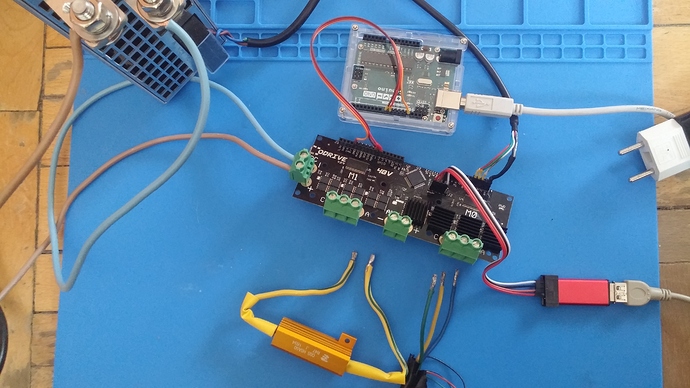 Flashing the board was successfull. Here is the picture from Visual Studio Code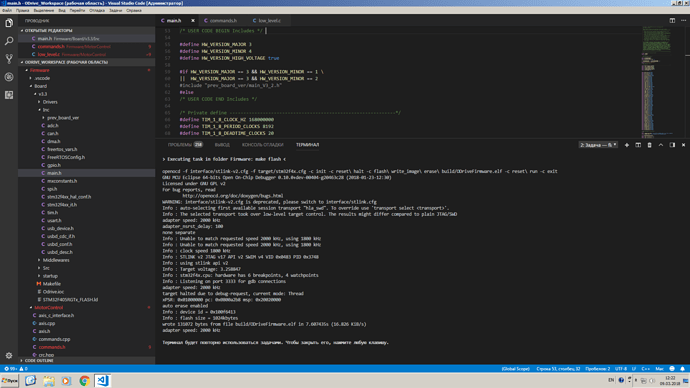 I used UART to communicate with ODrive via Arduino.
Yesterday аfter the first start with the 'b' command I got vbus_voltage = ~ 48.57
Today vbus_voltage = 0 always
I tried to connect only Arduino and power supply with disconnected motor, resistor and encoder, but still 0 volts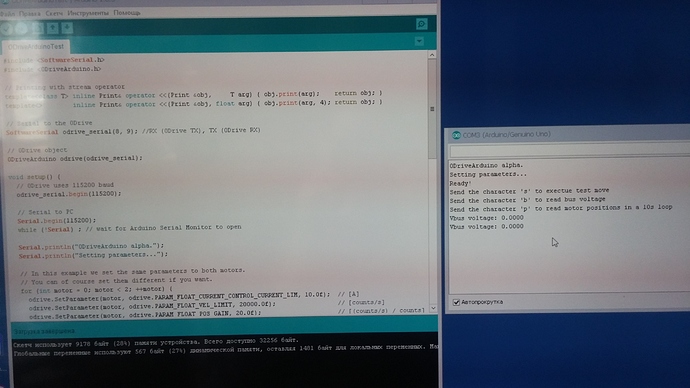 Motor does not rotate and it did not rotate in any of the tests.
The Mosfets heat up very much, especially the one with the edge - a few seconds after it can not be touched.
I think yesterday at the first test I noticed it too late and maybe Odrive overheated and burnt.
In any case, I ask you to help me figure it out, because after the order of the new board everything will be repeated.
I made a demonstration video.

Motor slightly torn after switching on and that's all.
I did various combinations of connecting wires coming from the motor, but the situation did not change (although I have not tried all combinations)
Maybe the reason is in which combination of wires are connected from the motor?
After I set
.motor_type = MOTOR_TYPE_HIGH_CURRENT and mosfets are no longer overheating,
but the motor also does not move and vbus_voltage = 0
What do I need to check or measure to find out the reason?