Hello all,
I have ran into a problem when using the O-drive, I will try to explain the problem as detailed as possible so this post might get a bit long, apologies for that.
I want to control the O-drive in current control mode (i.e. torque control mode with torque constant of 1) via an external microcontroller board (K64F).
Because I want a fairly fast update rate to do measurements (up to about 100hz) I want to use the native protocol to communicate over the UART, with an increased baud rate of 912600 baud.
For now the procedure is to initialize the O drive with a few laptop commands, and then transition to the K64F for sending the torque commands.
The O drive has the following configuration (see the json config file here)
UART baud rate 921600
Current limit 5 A
Velocity limit 9999999
Brake resistance 2 ohm
Pole pairs 7
torque constant 1
motor type MOTOR_TYPE_HIGH_CURRENT
encoder counts 16384 (4096*4)
controller mode CONTROL_MODE_TORQUE_CONTROL
Then after boot, the following commands are issued by laptop to initialize the O-drive for use:
// Calibration sequence
odrv0.axis0.requested_state = AXIS_STATE_FULL_CALIBRATION_SEQUENCE
// Set mode to closed loop controller
odrv0.axis0.requested_state = AXIS_STATE_CLOSED_LOOP_CONTROL
So at this point, a command can be used to set the desired current:
odrv0.axis0.controller.input_torque = current required in amps
But again, that last line I want to be able to do via microcontroller.
I have confirmed to have the O-drive working with a laptop, and I have confirmed that my K64F is spitting out UART data. The UART Tx is connected to GPIO 2 pin of the O-drive.
An example packet directly captured from the uC tx port shows the following data: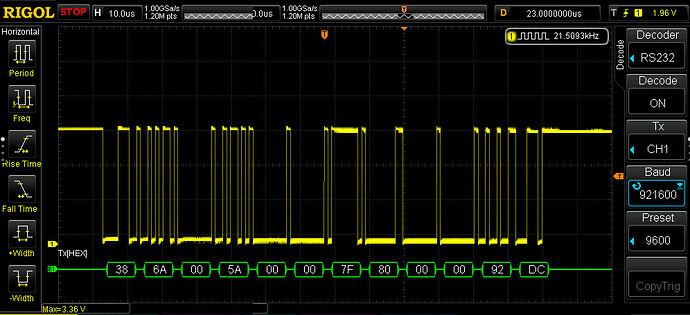 38 6A 00 5A 00 00 7F 80 00 00 92 DC [all in hex]
Sequence number: 38 6A (although according to documentation seq nums are not used)
Endpoint ID: 00 5A (dec: 90, as this seems to be AXIS__CONTROLLER__CURRENT_SETPOINT in the python odrivetool)
Expected response size: 00 00 (I don't care about a response from O-drive)
Payload: 7F 80 00 00 (32 bit float, little endian, 4.6e-41)
CRC16: 92 DC (polynomial 0x3d65, init val 0x1337, calculated over just the data bytes, or should it be over all previous bytes? Correct value as tested with the suggested CRC calculator)
How can I confirm that the O-drive actually receives packages? Am I missing something in how the package should be formatted? Is the CRC calculated over just the data bytes, or over all the previous bytes of the message?
Thank you very much in advance for your time.