I've been running my odrive off of my laptop (ubuntu 16.04) without issue, but it's time to switch to a Jetson and I'm having trouble connecting to the odrive in odrivetool (or with odrive.find_any()).
Most of the time, if I run odrivetool -v shell I get this: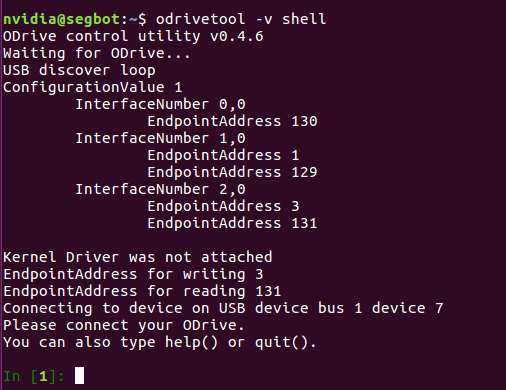 Sometimes with the please connect your ODrive at the end and sometimes without.
Sometimes I get lucky and get the "connected to odrive as odrv0" after 5-10 seconds, but the majority of the time nothing happens (even for 20+ minutes). This isn't a problem on my laptop at all.
If I kill power to the odrive, I get this:
So I know that odrivetool has found the odrive.
EDIT:
I added some debug statements in the Fibre library to find the line it's getting stuck on:
Looks like #69 in discovery.py is not returning
json_bytes = channel.remote_endpoint_read_buffer(0)
Following it down the function calls we get to:
self._output.process_packet(packet)
on line 297 in protocol.py (in remote_endpoint_operation).
And continuing the stack trace to line 98 in usbbulk_transport.py
ret = self.epw.write(usbBuffer, 0)
Not sure where to go from here…