Hi, I'm trying to configure an Odrive Pro to control a bldc motor with an hall effect encoder but i have some problems. I already did it on the normal Odrive but it seems that some config commands are not the same for the Odrive Pro.
I tried to configure the Odrive Pro with the Odrive Pro documentation but in result, my encoder and controller are not found.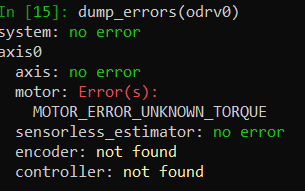 I think, I made some mistakes on the encoder config. I don't really understand what should I chose for :
odrv0.axis0.config.load_encoder = EncoderID.HALL_ENCODER0
odrv0.axis0.config.commutation_encoder = EncoderID.HALL_ENCODER0
I replaced encoderID.HALL_ENCODER0 by ENCODER_MODE_HALL but I'm not sure of it.