I have an ODrive3.6 with v0.5.4 connected to a DB59S024035 brushless DC motor, powered using a 6S LiPo and connected to a AMT102-V encoder.
I am running the 'INPUT_MODE_TUNING' mode to produce a velocity sinewave to control the motor (not connected to any load, with the encoder firmly attached to the motor shaft).
The first image below shows everything running smoothly as I would expect:
Legend for charts below
0 - odrv0.axis0.encoder.vel_estimate 
1 - odrv0.axis0.controller.vel_setpoint
2 - odrv0.axis0.motor.current_control.Iq_measured 
3 - odrv0.axis0.motor.current_control.Iq_setpoint

< unable to embed image as new users can only embed a single image per post >
[image 1]
However after around 20s, the target current suddenly jumps from ~-1A to +10A (see the second image below).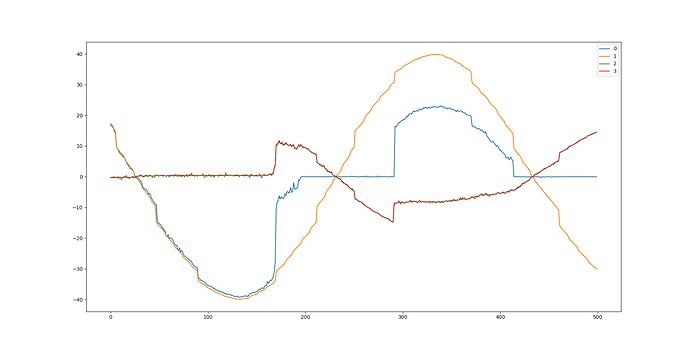 My controller gains are as follows:
  pos_gain: 0.0 (float)
  vel_gain: 0.019999999552965164 (float)
  vel_integrator_gain: 0.0 (float)
  vel_limit: 100.0 (float)

This issue is very repeatable and requires a reboot in order for the motor to move and get back to the control seen in the first image (the control will fail after about 20s again).
To me it seems like an integrator is winding up somewhere and suddenly flipping, but I haven't been able to find any documentation about any other integrators other than the velocity integrator (of which the gain is set to 0).
Any ideas?