I wanted to ask what the ODrive expects as logically low and logically high. What are the limits?
I have the same question. I'm having a really hard time with a HE sensor, I have confirmed signals when rotated on an analog oscilloscope, but since it's not digital, I don't know if they have enough chutzpah. The signals seem kinda wide and gracefully float up and down at least a few volts with sharp and noticeable U shaped dip between what I presume are the poles aligning. I originally installed 22uf caps, but then installed 47uf (axis1 only). A similar motor works on Axis0, however, the condition moves when I move the motor to Axis0, so I have to assume that the HE is not doing it's job. What are the voltages, signal levels, current levels, whatever levels, for the encoder input circuits? I'm thinking of removing the pullups and soldering 47uf across those points. Is that too extreme?
Hmm. I'm not sure what you mean by 'chutzpah'. Can you post a photo of your scope when you see this condition?
Most Hall sensors have a 'digital' output of some sort. Usually they have a built-in Schmitt-trigger comparator, so they shouldn't "gracefully float up and down".
It's possible (but unusual) that your Hall sensors have "open collector" outputs, and therefore you need a pull-up resistor on each output.
What kind of Hall sensor do you have? Do you have a datasheet?
They're just high impedance 3.3v digital CMOS inputs… pretty normal stuff.
May I suggest to anyone attempting to put low-pass filters on a digital Hall sensor: Don't. This is a hack and should not be required. Fix your wiring first.
The "22nF capacitor mod" is there to conduct away noise in the 5-50MHz region, which can be present around inverters, especially where there is no passive filtering on the power side (common-mode chokes etc). It's not a low-pass filter as such.
I'd expect that rise/fall time for Hall sensors needs to be <<1us, otherwise it's likely that the chip will sample during a transition, and trigger the ILLEGAL_HALL_STATE error.
How much should the voltage of the capacitors be?
Hi and tx for your great engineering work.
I run into ERROR_ILLEGAL_HALL_STATE as well. It is a skateboard sensed bldc. The hall states encode like this when checking on arduno. You say all 0 or all 1 are illegal states. With this sensor setting it seems i cannot avoid it. Tx and best
0 0 0 =0
1 0 0 =1
1 1 0 =3
1 1 1 =7
0 1 1 =6
0 0 1 =4
0 0 0 =0
1 0 0 =1
1 1 0 =3
1 1 1 =7
0 1 1 =6
0 0 1 =4
0 0 0 =0
1 0 0 =1
1 1 0 =3
Want to +1 this solution for others.
I was using 3d printed parts and everything was fine. Once I switched to metal the motors would stop with ERROR_ILLEGAL_HALL_STATE after a few seconds. I used 100nF caps (didn't have 22nF) as per the photo in this thread. Problem fixed.
Hi all,
I am not an bldc motorcontroller expert but could it possible to filter out some hall state errors by the software
For example ingore the error if it is just for a short period of time (noise) or count the errors to an defined limit ?
Hi all,
i also encounter the same issue.
It was solved by separating the HALL sensor signal cable from the motor coil cable.
the signal is affected by the control signal.
hope it helps!
Hi, I'm also trying to add 22nF caps to oDrive's hall connections, how do you use those protoboards please? OSH Park ~
Do you motors have a hollow axle that acts as conduit for the three power leads and the five hall wires? How did you keep them separate in the axle-stub?
After I did a firmware update on my ODrive, I had this same exact issue. I only had 10nF and that worked for me.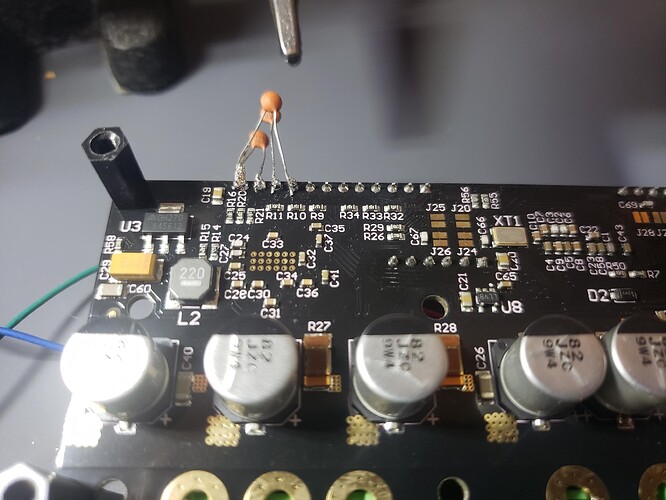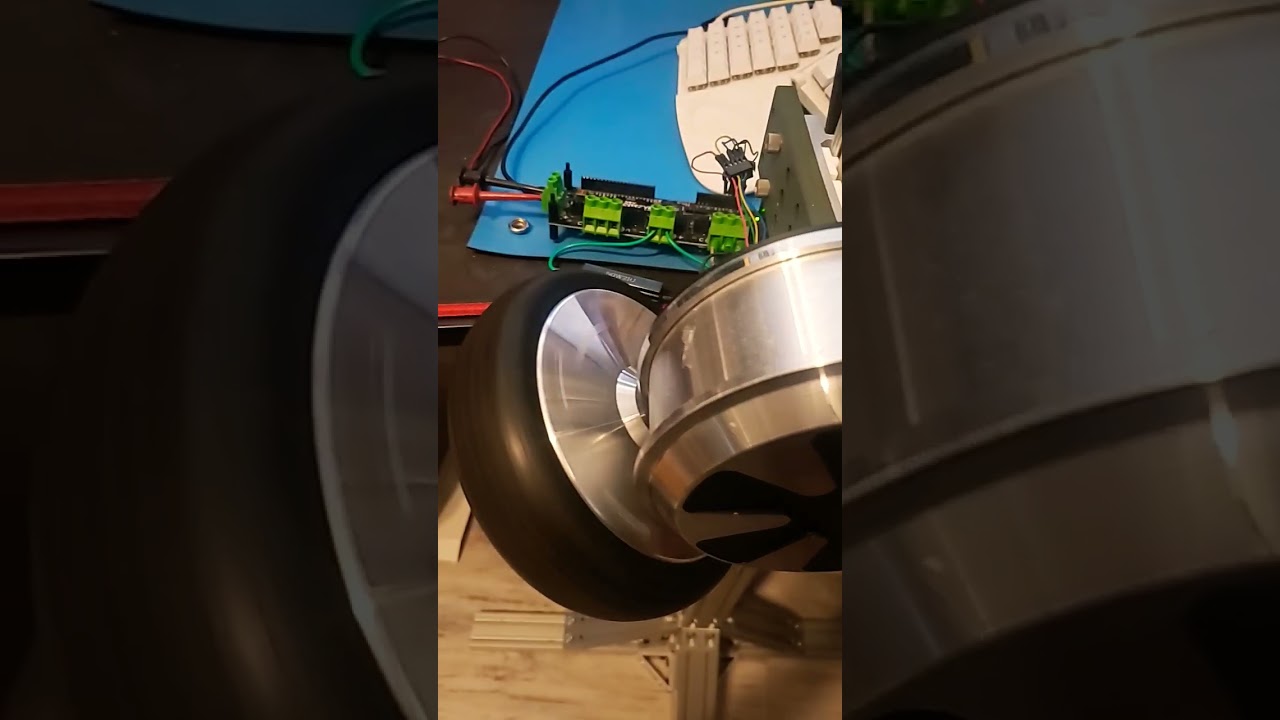 hey @madcowswe , i have this same problem i was to control ODrive with two of hoverboard motor with HE and a have calibred the motor in both of axis and after i use odrive_ros2_control when i send the velocity to the axis 1 and axis 0 it turn and after while axis1 quite the control and when i use dump_errors(odrv0) i got this error : ENCODER_ERROR_ILLEGAL_HALL_STATEerror 0x0010 (int)
so i'm asking if the solution of soldering 22nF capacitors for M1 axis 1 is also suit to ODrive V3.6-56v
(also i'm wondering if i use 22nF or 47nF and if i do it just for M1 or also to M0)
UPDATE AFTER 8h
after 8h i buy th 47nF capacitor and i soldere for M1 the problem is FIXED

but when i run the two motor for long time the M0 got the error again ENCODER_ERROR_ILLEGAL_HALL_STATE !!
@madcowswe do u think i have to solder the 47nF capacitor for the M0 too ??
Is soldering in some filtering caps still the suggested solution for the odrive S1?
…unfortunately much harder to find a mechanically solid solution for soldering in the caps on the small breakout-connector…
No, there should be no need to solder / modify the S1 in any way.
If you are experiencing an issue with S1+Hall Encoders please start a new Topic and we can dig in!