I'd like to preface this by saying that I've already read a similar thread on this, but it seems to have gone silent with no apparent solution, so I'm creating this one. I tried suggestions from that thread, such as increasing the current range, but this has not worked.
I'm using a 56V ODrive 3.6 with FW 0.4, driving an ODrive 6374 150kV motor, with the supplied 2 Ohm 50 Watt brake resistor. My velocity limit is set at 983,040 counts/s, my current limit is set at 60A, and my current range is set to 180A.
Additionally, it should be noted that the motor is installed in a 3d-printed gearbox (below), although this does not add any significant load.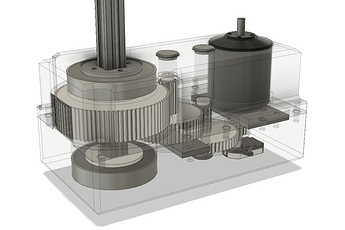 I've had no problems running the motor at low speeds under high load, but now that I'm trying to reach the full 7200RPM of the motor, I'm running into problems. When I command a velocity of 983,040 counts/s, the motor spins up rapidly for a moment, then the ODrive throws ERROR_BRAKE_CURRENT _OUT_OF_RANGE and ERROR_BREAK_RESISTOR_DISARMED, and the motor coasts to a stop, never having reached its commanded velocity. I thought this may have been due to the rapid start, so I tried current control mode with a commanded current of 0.5A. This was as low as I could go - so low that I often had to give the motor a little kick-start. The motor spun up slowly as expected, and did reach the velocity limit, but after only a moment of sustained speed, it threw the same errors as before and coasted to a stop. Here is the data streamed from the odrive during this test: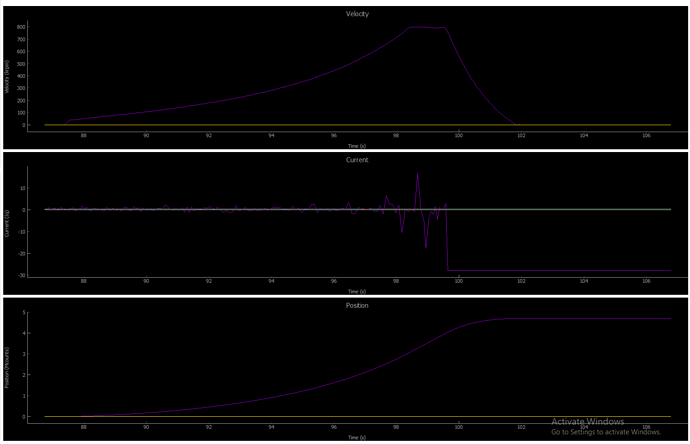 Help would be much appreciated. Thanks!