Hi All,
So I have built a following tracked robot using 2 RC sensored motors: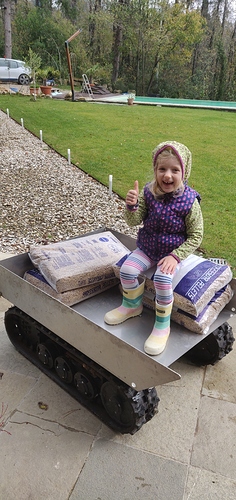 I have used the motor s and controler from https://alienpowersystem.com/shop/brushless-motors/80mm/c80100-outrunner-brushless-motor-50kv-6000w/
While it worked, Their controler is very basic and low speed control is limited, due to the flex of the tracks the motors have hard time starting up despite 40:1 gearing, and they sometimes stall with a large clack. At certain point the I got stuck with the machine in a narrow passage and burned both one controller and one motor.
I now need to rebuild the machine and, and I research for new controller motor combination.
Do you think ODrive would be a good solution for me? I was thinking about converting to the steppers for a good low speed control, but the max RPM is low and RC signal control is also problematic.
Is ODrive good @ low RPM control of such a motor as the one I currently have?
(I have one left and I could just add a second one and add encoders.) The full speed of the machine is about 1000 RPM. The problem I noticed is that in order to just go past the flex of the track and and the friction of the worm gears (blue) about 100W of power are required. That confused the current controller that was more designed for the frictionless propeller.
At full blast the the output of the machine is about 2KW @ 44V batery pack . so that is about 25A per motor so ODrive should be able to handle that.
I look forward any options on from the community
TIA
Maciej