Hello Friends.
I hope someone can help me. I can't get the torque it should have.
I'm doing some tests trying to have a god torque control from odrive. In my tests I'm using a Odrive 3.6 56V and a incremental encoder. I did the process described at hoverboard guide, change the encoder parameter to incremental and the cpr of course. You can find the process below.
odrv0.axis0.motor.config.pole_pairs = 15
odrv0.axis0.motor.config.resistance_calib_max_voltage = 4
odrv0.axis0.motor.config.requested_current_range = 25
odrv0.axis0.motor.config.current_lim = 20
odrv0.axis0.motor.config.current_control_bandwidth = 100
odrv0.axis0.motor.config.torque_constant = 8.27 / 16 #hoverboard KV
odrv0.axis0.encoder.config.mode = ENCODER_MODE_INCREMENTAL
odrv0.axis0.encoder.config.cpr = 2400
odrv0.axis0.encoder.config.bandwidth = 100
odrv0.axis0.controller.config.pos_gain = 0
odrv0.axis0.controller.config.vel_gain = 0
odrv0.axis0.controller.config.vel_integrator_gain = 0
odrv0.axis0.controller.config.vel_limit = 10
odrv0.axis0.controller.config.control_mode = CONTROL_MODE_TORQUE_CONTROL
odrv0.save_configuration()
odrv0.reboot()
odrv0.axis0.requested_state = AXIS_STATE_FULL_CALIBRATION_SEQUENCE
odrv0.axis0.requested_state = AXIS_STATE_CLOSED_LOOP_CONTROL
odrv0.axis0.controller.input_torque = 1
You can see my setup and data in the link below. It is a spreadsheet.
The graphic below show the result of the tests I made.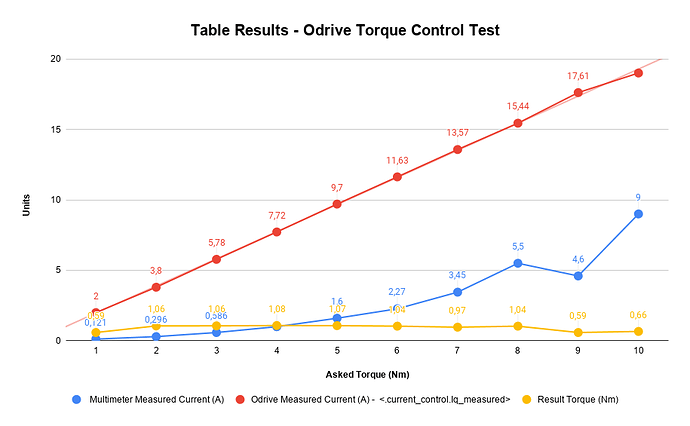 The problem is that even if the drive delivers a lot of current, the final torque doesn't pass 1.5 Nm when it should reach 10 Nm. If I switch to speed control mode, the control works well too, but still with very low torque.
Could this be a problem of the encoder type?
I hope somebody can help me.