Hi All,
I'm building a Direct Drive sim racing steering wheel based on the hoverboard tutorial and the EMC Arduino project. I want to isolate the ODrive from the Arduino as whilst everything works well in general I'm getting glitches when the ODrive is powered.
That being the case I want to try and opto-isolate the Arduino to Odrive connection.
The Arduino firmware outputs Servo PWM using the Servo library.
I'm using a PC817C optocoupler, the Arduino output is 3.3v and I'm using a 1k8 current limiting resistor on the PC817C input side pin 1. As per below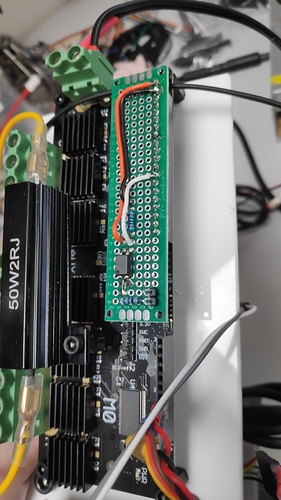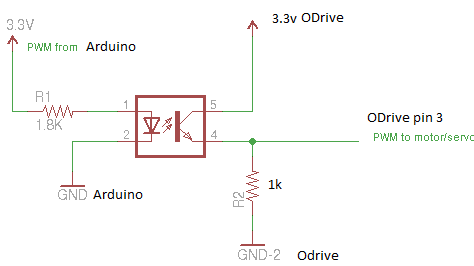 On the output side of the optocoupler I'm connection the optocoupler (Picture) pin 4 to the ODrive IO pin 3 and I'm using a 1k pull down resistor to ODrive ground. Pin 5 (Picture) is connected to ODrive 3.3V.
When powered the ODrive is continuously running in 1 direction, so I'm guessing that either the pwm pulse length is getting shortened or I'm just not getting a signal and ODrive pin 3 is just fixed at 0v or 3.3v.
Can anyone suggest a good set of values for the resistors to make this work? Or am I way off the mark? Some googling suggests a 10K pull down would be more appropriate, but I'd rather not just randomly try different values, especially considering I'd rather not damage my ODrive and I dont know what signal conditioning is inside the it to start with. I know just enough about electronics to be dangerous lol, so I thought it better to ask.
I'd also like to use the same rotary encoder for both the Arduino and the ODrive, currently the ODrive uses the hoverboard motors hall effect sensor wiring, and the Arduino uses a 5v rotary encoder. Again I'd like to separate the two devices with an optocoupler, will the same circuit work for the A B Z Encoder inputs for the ODrive?
Any constructive feedback would be most appreciated.
Many Thanks
Barry M