hi,
is the cardan your center of rotation then? or?
greetigs stijn
hi,
Ow okay I'm making a 6 dof

greetings stijn
OK, great.
The goal far far away should also be a 6dof. But we are the first using ODrive for that and I want to keep the cost and effort as low as possible if it fails.
Greetings / Zennix
hi
hi that's also true but normally it should work according to me, am I wrong?
I'm using a 6368 motor so that's a bit bigger than yours
greetings stijn
Hi,
Can you share the ODrive case with us?

you can place it here
cheers Stijn
Hi,
how did you attach the carbon tube to the ballscrew nut?
cheers Stijn
Hi,
yes I could share the CAD datas, but it's very special. It fits only to this kind of motor and the aluminium frame. Therefore I will wait with sharing till my prototype is working.
Yor second question:
I have designed a 3d printing part thats squizes O-rings inside the carbon tube. Don't know if this will be enough.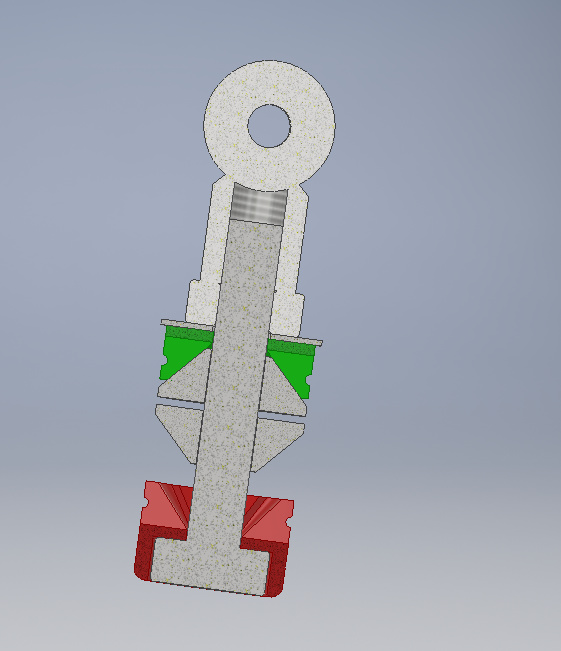 The other side at the ball screw nut has to be glued. 3M 2216 is the best but extremly expensive. UHU endfest could be an alternative.
Greetings / Zennix
Hi all, time for an update.
machining a heatsink for the power resistor.
And the base chassis
Now waiting for:
limit/home switch firmware
CFK tube for the second actuator
Greetings / Zennix
Hi,
Nice little update. I actualy meant the ODrive casing.
Ah, OK
If I find some additional time, I will remove the Zennix and share it.
Greetings / Zennix
Hi Zennix, very cool, I can't wait to see your works in action

Regards Jerry.
New Update:
placing a anti shaking ring to the ball screw.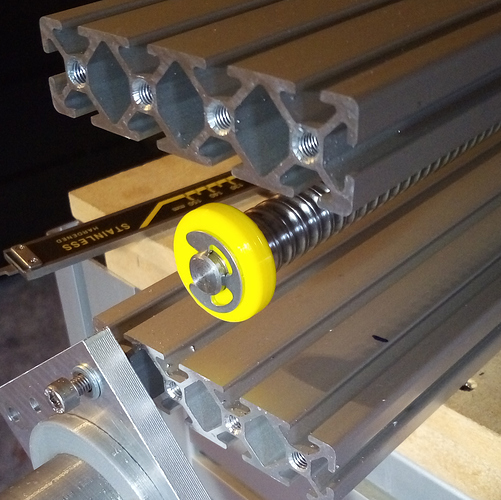 I decide to change the powersupply to DELL server PSUs. Each offers 12V and 53A. To put it serial for 36 Volt I had to disconnect the AC ground and the DC ground. Otherwise


Additional I connected a LM34 to the fan control line so it runs depending on the temperatur. Next was a relais to switch all three on together.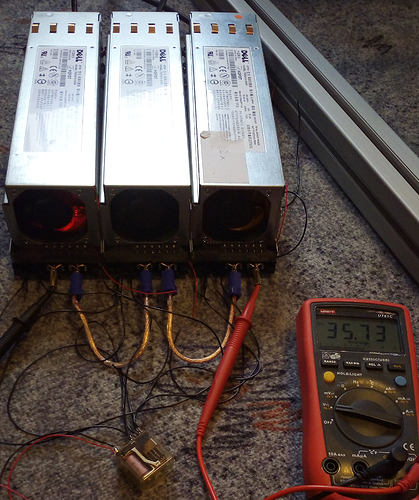 Greetings / Zennix
Hi,
It's me again, I don't think the ring will last long, I have been thinking about other ways to do it, bit I haven't found a better solution.
The power supply's are not for only 1 motor right?
Cheers Stijn
Hi Stijn,
power supply for one ODrive with two motors.
Greetings / Zennix
Time for an update.
The missing parts have arrieved.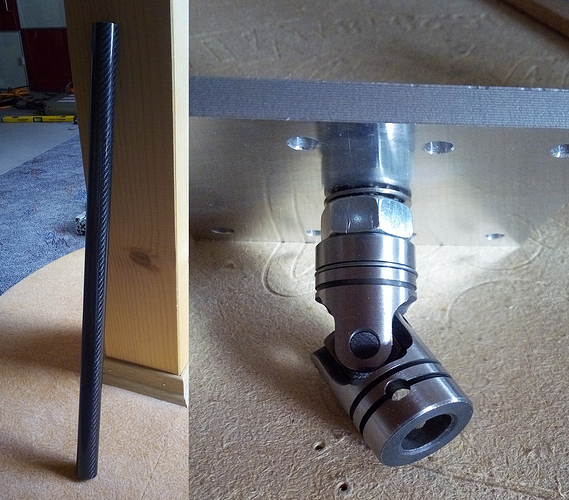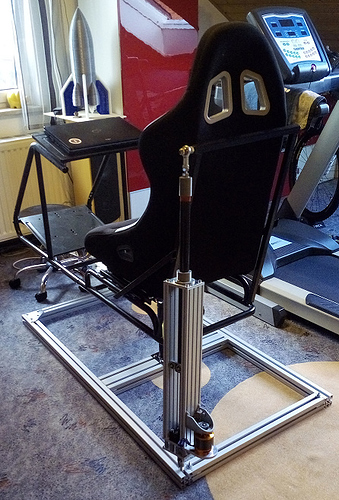 First Actuator is completed. Second is 90%. Need it for testing without transmission belt. So mistakes cannot crash it.
Finally I'm waiting for the firmware with endstops.
Greetings / Zennix
Hi Zennix, fantastic! I can't wait to see you drive

Regards Jerry.
Nice work!
Cheers
Carelsbergh Stijn
Hi all,
Time for an update. After Wetmelon has finished a version of the firmware with endstop support I was able to put the things together.
Homing:

NoLimts2 Ride with 50% axis.

It's not perfectly tuned, but so good so far. Next tests with load.
Thank you all for your support.
Greetings / Zennix
Hi Zennix, thanks for the update, looking good, hope to see you in the seat having fun soon.
May I ask about the chair?
Regard Jerry