So, I have had my motor running in sensorless mode for a while now, but recently the wires I needed to connect my hall-sensors arrived. So I have tried configuring them, but without any success.
What I have:
I am getting encoder error 0x10, which means i have an illegal state.
when I test the hall sensors manually, they appear to nicely move through the quadrature like I would expect, never producing 000 or 111, always at least one sensor high and one sensor low.
when I manually supply the sensors with power and ground, the pins that I want to plug into the Odrive read ABC = 110 (1 = 5V, 0=0V). However, when I plug it in and measure the pins I get everything at 4V so ABC=111.
The 5V, 3V, and Ground are still functioning normally.
Have I blown up the chip? Or is there some setting on my Odrive set wrong?
error = 0x0010 (int)
is_ready = False (bool)
index_found = False (bool)
shadow_count = 0 (int)
count_in_cpr = 0 (int)
interpolation = 0.0 (float)
phase = 0.0 (float)
pos_estimate = 0.0 (float)
pos_cpr = 0.0 (float)
hall_state = 7 (int)
vel_estimate = 0.0 (float)
config:
mode = 1 (int)
use_index = False (bool)
pre_calibrated = False (bool)
idx_search_speed = 10.0 (float)
cpr = 18 (int)
offset = 0 (int)
offset_float = 0.0 (float)
bandwidth = 1000.0 (float)
calib_range = 0.019999999552965164 (float)
Pinouts on the sensor, that I used in a previous setup: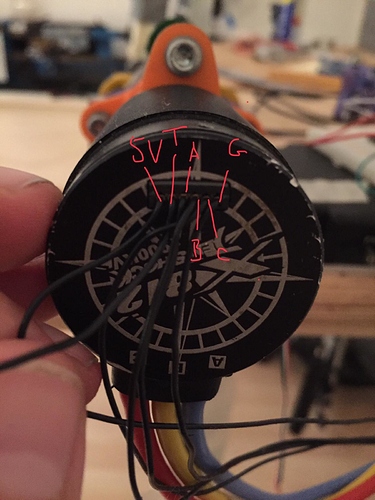 Testing the states of the hall encoders, with 5V and Ground from the Odrive: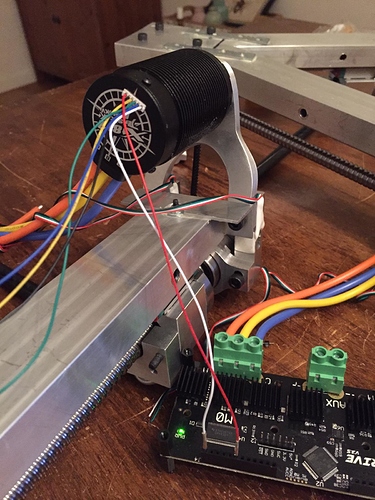 Plugging it into the Odrive, and getting straight 4V on all three sensors: