Hi everyone,
I've been having some issues with connecting to the USB ODrive v3.6 56V. Last weekend, I wired up two ODrives to a RPi, which seemed to work great. The motors were able to successfully calibrate and run to positions on command. This translated to this morning, where the project continued to exhibit the same behavior. However, this didn't seem to persist: after attempting to connect the USB directly to a workstation, the ODrives no longer seemed to want to connect to anything – running lsusb on the RPi, a workstation, and a laptop all seemed to not detect the device whatsoever. The power light is on, the only issue seems to be the connection. All the cables were verified to work as expected.
To solve the issue, I attempted to reflash the boards with new firmware. The flashing was successful, but didn't seem to change anything connection-wise. However, after repeated flashes and power-cycles, the one of the boards started smoking, with the USB housing melting and fusing the cable to the board. This is shown below: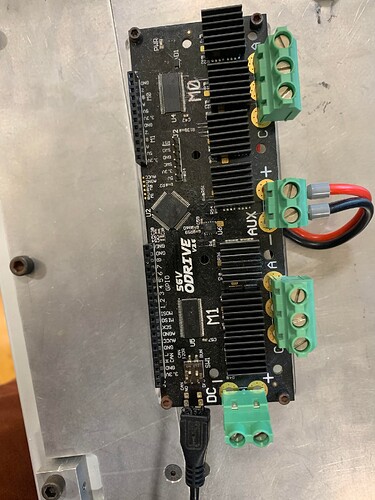 The other [intact] board still doesn't seem to connect to any devices, even after putting on a USB isolator on the connection.
If any more details on the issue are required. please let me know – I'd be happy to provide them.
Thanks,
Alok