Hello,
I have a system where 4 ODrives are powered by 2 power supplies, and the ODrives are controlled via UART by an Arduino. Each ODrive board is expected to consume a maximum of 5 amps total. The power cables leading to the ODrives will be very long, several meters, but all other wires are short. The power supplies for the ODrives do not have a connection between their V- and earth, but the Arduino does (it is connected to a computer by USB). Approximate diagram: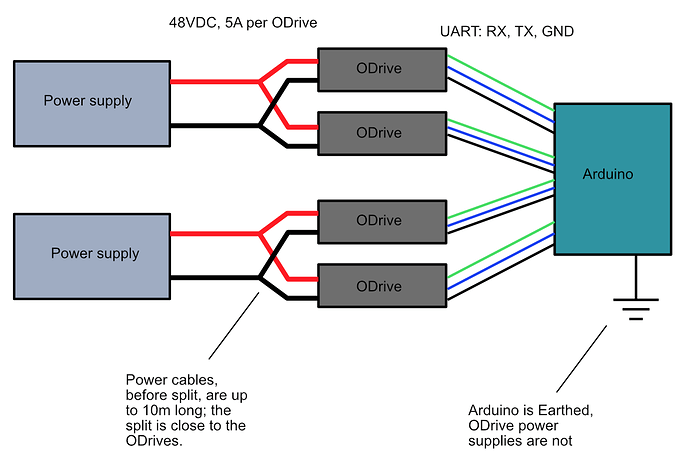 I have been running the system without any issues so far, but testing has not been with nearly full load yet, and the test setup uses cables that are not nearly as long as the final ones will be. So in thinking ahead, and mostly to avoid frying anything, I'm trying to understand the risks of a ground loop occurring. From what I can tell after reading about ground loops on here, these are the factors in this situation:
Since the ODrive power supplies are not earthed, there is not a risk of a ground loop that involves the power supplies themselves. Is this correct?
But the physical circumference of this loop is not very large—I would approximate about 3 feet total. (The wires from the power supply are several meters long, but the split is close to the ODrives.)
The ground loops documentation implies that ODrives are at risk of creating a ground loop due to their high current consumption. Since in my case each ODrive is only expected to consume 5A, is that even in the order of magnitude where I should worry about it?
Thanks for help and any information.