A new class of motor
The entire premise of ODrive is based around combining robotics control theory with cheap consumer grade hardware. Hobby aircraft motors were a convenient size and shape for gantry style machines, and mass produced enough to be cheap. However, many robotics applications require higher torque than the aircraft motors can put out. One way to overcome this limitation is to use a reduction gearbox, such as the concept explored by @Wetmelon:

However, moving beyond hobby aircraft motors, we find that there is another type of motor that has come to the consumer market in recent years. That's right, I'm talking about Hoverboard motors: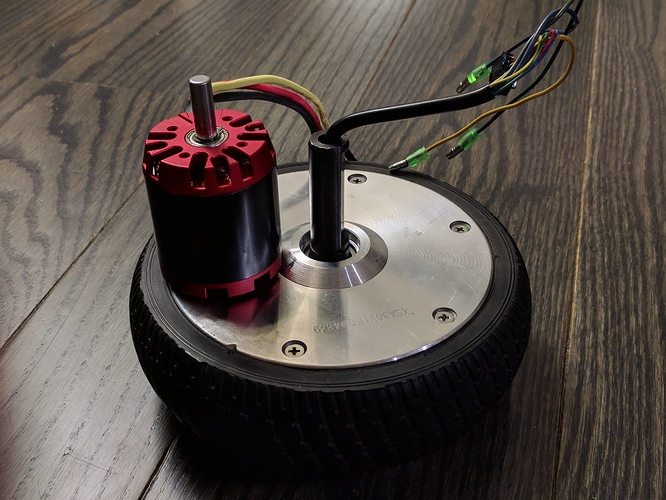 A standard "6.5 inch" hoverboard hub motor, compared to the N5065 motor.
Hoverboard motors were already mentioned by @zwn in this thread several months ago, and recently I started looking into using them myself, and there are a few others over on the ODrive discord (specifically @beak90) who are also interested.
The first thing to note about these motors is that they are mass produced in large qantities, and they have enough torque to direct-drive a human, and humans are heavy. This means we can expect that it has a good torque-to-price ratio. Turns out, nope, it actually has a ridiculous torque-to-price ratio.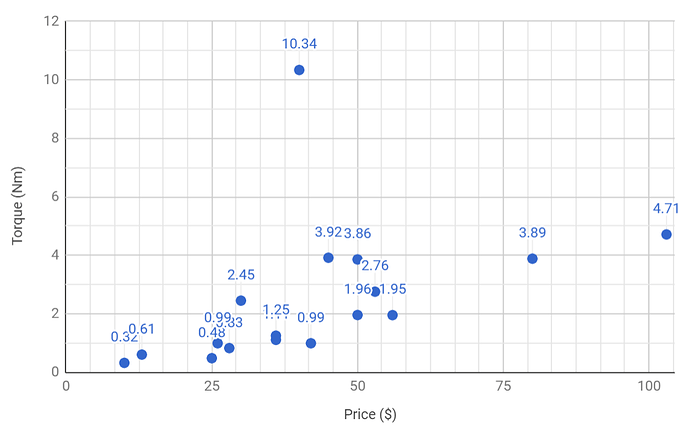 Torque vs Price plot, straight from the
ODrive Motor Guide
. Guess which one is the outlier.
We have yet to completely test the capabilities of these motors in this application, but we expect it to do somewhere between 5 to 10 Nm continuous, depending on cooling. They currently seem to cost about $35 new, and about $15 used (these numbers are on USA eBay).
Project HoverArm
As you may have guessed from the thread title, my goal is to use these motors to make a robot arm. The aim will be to make it very easy for anyone with access to basic hackspace equipment, like a 3D printer, to easily replicate. So it will use standard off-the-shelf parts, and 3D printed parts, and maybe a lasercutter (we'll see about that one). No custom machined aluminium or anything like that.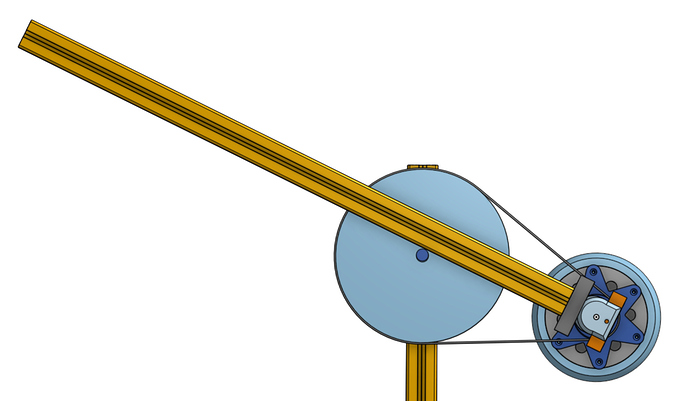 Sneak peek of the design concept.
The design is looking like a 1200mm reach arm cabable of 3-5kg dynamic load and arbitrarily high static load (since the arm will be counter-balanced).
Join the fun
There are quite a few people in this community who are interested in building robot arms with ODrive, and so I invite you to join us. Feel free to comment on this design, or about hoverboard motors in general; or even better, get a $15 hoverboard motor for yourself to play with and build something cool.
---
Here are links that go directly to the rest of the write-up style posts:
Links to future posts will appear here.